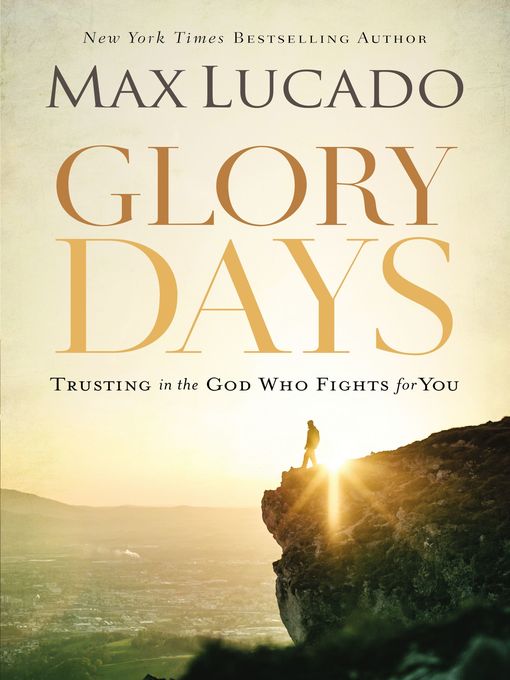 Glory Days
is about living your "Promised Land life" - in Canaan, not the wilderness. This deep desire has permeated my ladies Bible study group recently, so I thought it appropriate to read this book now (it collected dust on my shelf for way too long!). We all want more. We all want things to
just be right
in our lives. While perfection cannot be achieved on this side of heaven, Max Lucado explains that you still
can
have a better existence now. One with favor, provision and peace from the Lord. How? Let's see...
In Canaan you do not fight
for
victory. You fight
from
victory. In the wilderness you strive. In Canaan you trust. In the wilderness you seek God's attention. In Canaan you already have God's favor. In the wilderness you doubt your salvation. In Canaan you know you are saved. You move from wanting-to-have to believing you already do.
Don't measure your life by your ability; measure it by God's.
You can't control your tongue, temper, or sexual urges, but God can.
Promised Land people say, "I'm a victor in spite of my surroundings."
Glory Days require an ongoing trust in God's word.
With God the smallest step of faith can activate the mightiest of miracles.
The real conflict...was with Satan and his demons.
He's [Satan's] ticked off at you. All this talk about Glory Days and Promised Land living has him in a foul mood. Your wilderness days did not trouble him. But now you are stepping into your Promised Land life. Daring to walk in faith, not fear; leaning on grace, not guilt; hearing Go'd voice more, the devil's voice less.
The secret of survival in enemy territory?
Remember what God has done.
Don't face Satan by facing Satan. Face Satan by facing God.
All God's children can be sure of God's angels.
Turn your gaze away from Jericho. You've looked at it long enough...Healing happens when we look to our Commander.
These words [negative thoughts/words] create alliances with the devil. They grant him access to your spirit.
Live out of your inheritance, not your circumstance.
March like a Promised Land conqueror. Blast your ram's horn. Sing songs of redemption, and declare scriptures of triumph. Marinate your mind with the declaration of Jesus, "It is finished!" (John 19:30), and the announcement of the angels, "He is not here; for He is risen" (Matt. 28:6). Personalize the proclamations of Paul: "We are more than conquerors through [Christ]" (Rom. 8:37), and "I can do all things through Christ" (Phil. 4:13). As you do, the demons will begin to scatter. They have no choice but to leave.
Defeat your strongholds with the spiritual weapons of worship, Scripture, and prayer.
Everything begins with faith, The absence of it results in wilderness years.
Press your ear against the curtain of eternity and listen.
This is no guarantee of an easy life. It is the assurance of God's help.
How bold are your prayers?
You are heaven's first and final attempt at you.
This is your destiny. This is you at your best. When you stand at the intersection of your skill and God's call, you are standing at the corner of Promised Land Avenue and Glory Days Boulevard. This is Canaan.
What do you do well? What do people ask you to do again? What task comes easily? What topic keeps your attention? Your skill set is your road map. It leads you to your territory. Take note of your strengths.
Do you really want to meditate on your misery? Will reciting your problems turn you into a better person? No. But changing your mind-set will...
Immerse your mind in God-thoughts.
Faith is a choice.
God fights for you.